In the heart of Africa, where Lake Kivu's waters cradle verdant hills, a remarkable tale of transformation and conservation unfolds. This is a story of a community's resilience, determination, and a unique approach to sustainable agriculture that not only boosts productivity but also safeguards Lake Kivu's fragile ecosystem.
A New Beginning
In Rutsiro, nestled beside the picturesque Lake Kivu, traditional farming methods often led to disappointing harvests. The rain, while a lifeline, can also be a curse. Torrential downpours washed away precious topsoil into the Koko River, ultimately finding their way into the lake. The adverse consequences of this natural cycle began to harm the very living things that called Lake Kivu home.
Olive Bayisenge, a local farmer, recalls the challenges they faced. "Before, we were growing crops in this place with poor productivity! When it rained, all the land went down and sank into the Koko river or into lake Kivu, harming the living things in it."
The Living Lakes Biodiversity and Climate Project Interventions
However, hope emerged thanks to the Living Lakes Biodiversity and Climate (LLBC) Project. Implemented by the Albertine Rift Conservation Society (ARCOS), this project recognized the potential for change and embarked on a journey to introduce sustainable agriculture and landscape restoration to the Rutsiro community to halt the mentioned challenges. Terracing, a method of sculpting the land into stepped levels to prevent soil erosion, conserve water, and boost agricultural productivity, was also introduced.
Olive Bayisenge, standing beside her neighbor Jean Baptiste Tegamaso, says, "The project brought hope and joy to us. Our community has been facing a number of environmental issues that affected our livelihoods." Graciously, Jean Baptiste testified that the project interventions is going to build resilience to environmental challenges and is currently improving their socio-economic aspects.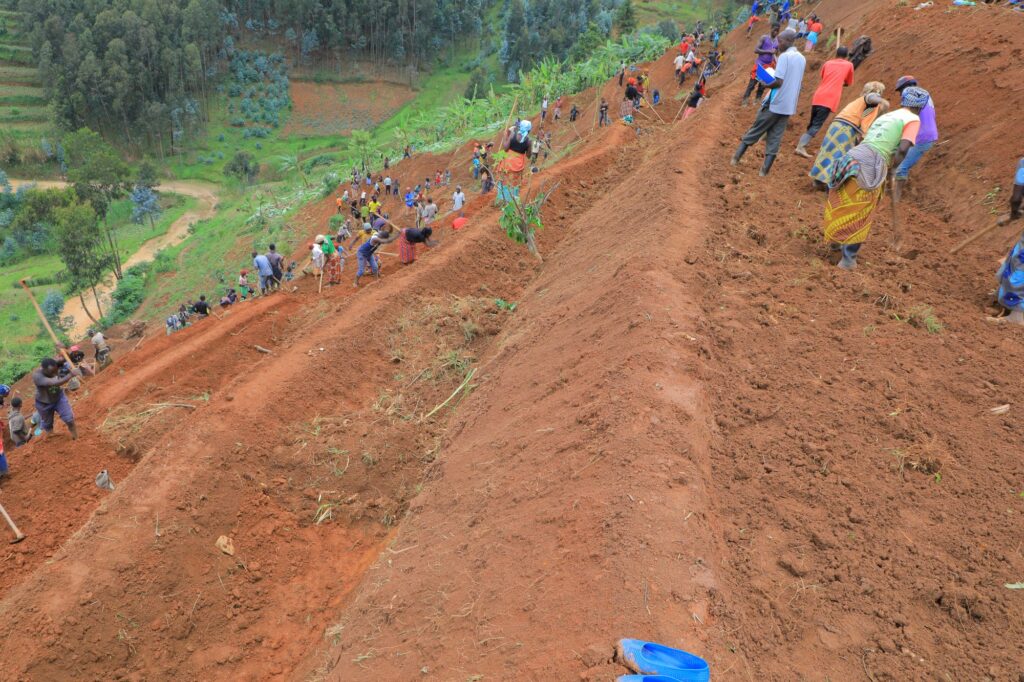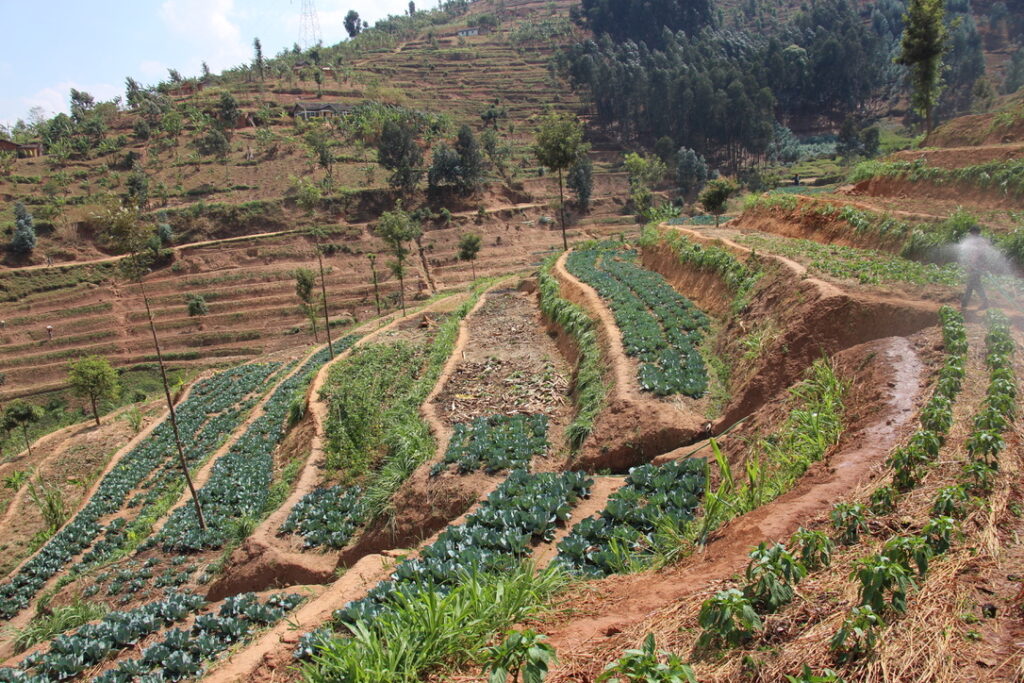 Philbert Tuyisabe, the Project Coordinator, shares the project's vision. "Our aim is to protect the lake Kivu as its sub-catchment. Today we are promoting sustainable practices both uphill as well as empowering fishery cooperatives", said Tuyisabe. Today, the community is living the success of sustainable farming practices that not only increase crop yield but also preserve the environment.
"Besides capacity building offered by ARCOS on sustainable fishing, we are aiming to plant trees uphill and get engaged in activities intending to protect the lake", said Hitabatuma Sylvain, chairperson of COOPJYAMU, a local fishing cooperative. Sylvain explained that, since they started working with the LLBC project, the cooperative has also embarked on an initiative to remove plastic waste from Lake Kivu.
Fresh Produce
The terracing initiative and agroforestry is yielding remarkable results. In the heart of the project intervention area, where Olive and Jean Baptiste's community grows its crops, the land is now becoming slowly but surely greener. Lush beets, green and red peppers, cabbages, and eggplants thrive in the carefully planned terraces. These crops are not only a source of nourishment but also a weapon in the fight against malnutrition, particularly for children.
Olive, her eyes shining with pride, explains: "In this valley, we grow vegetables. These vegs help us women to fight against our children's malnutrition and prevent poor growth. We supply them as well to the market for income generation."
A Win-Win for People and Nature
The Living Lakes Biodiversity and Climate project in Rutsiro exemplifies the harmony that can be achieved between sustainable agriculture and conservation. By embracing terracing, the community has not only secured its food supply but also acted as stewards of Lake Kivu's delicate ecosystem.
The runoff that once carried soil into the lake has been reduced, contributing to a healthier, more resilient aquatic environment. The replanted trees and grass will provide habitat and sustenance for wildlife, fostering a richer and more balanced ecosystem.
As we gaze upon the picturesque landscapes of Rutsiro and Lake Kivu, we see not just rising harvests but also the promise of a brighter future. It is a testament to what can be achieved when communities come together, guided by innovation and a deep commitment to both their own prosperity and the preservation of the environment they call home.
In the serene beauty of Rutsiro's terraced fields, a story of renewal unfolds, reminding us that in the union of sustainable agriculture and ecological stewardship, our future can indeed flow with promise and abundance.